The night Hillary Clinton lost, I was in the staff section behind the stage at the Javits Center in New York City. Before the grief really hit me, before I took a cab home, sobbing so hard, I had to pull over to throw up, and before the physical toll of two years of working on a presidential campaign overwhelmed me, I remember standing with a coworker, each of us folding our arms in front of our bodies, as if trying to contain all the feelings from flooding out.
"It's not just about losing," I said to him, but really to myself. "It's about all the little boys who will grow up thinking they get to (or have to) behave that way to be president. And all the little girls who will think they'll never have a chance."
I've been thinking a lot about that night as I mentally prepared myself for Elizabeth Warren to bow out of the Democratic primary, the moment that confirms this will be yet another election cycle in which we will absolutely not elect the first woman president. We won't break the glass ceiling, or make this kind of history, or get to call someone "Madam President."
In some ways, it's almost a relief. If Elizabeth Warren had gone all the way and then lost to Trump, there was no chance that they—"they" being the amorphous blob of operatives, donors, and decision makers who seem to determine these things—would've let a woman come close to the nomination again. One woman could've been written off as an anomaly, but two losing the White House? "They" would have called it a rule: Women can't win.
We won't break the glass ceiling, or make this kind of history, or get to call someone "Madam President."
But that is only the silver lining I can see when looking for consolation.
The truth is, "they" have already decided a woman can't win. In a primary where the biggest criteria was "electability," women and people of color were quickly deemed too risky.
Whether it was calling Kirsten Gillibrand "opportunistic" when she stood for sexual assault victims, demanding time and again that Elizabeth Warren show how she'd pay for her plans (which she did!) and then using those details as an attack against her while demanding half as much specificity from the male candidates proposing 10 times more than her, or the deeply racist and sexist double standards Kamala Harris was held to, no woman was going to be good enough. There are simply too many landmines for female candidates to avoid. We're damned if we do, damned if we don't.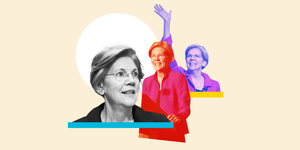 As Hillary's former communications director Jennifer Palmieri explains in her book, Dear Madam President, TSAHIJDL: "There's something about her I just don't like."
All that being said: I still believe it'll happen in my lifetime. I believe that one day, whether it's 2028, 2036, or 2052, or later, I will get to attend the inauguration of our first woman president, and hopefully, our second, third, and fourth. I believe that because I believe that we've already got the first, second, and third women presidents in office now, in city councils and state legislators—or maybe we're about to elect her to the first line of her presidential résumé.
The tens of thousands of women who ran in 2018 for the first time and the countless more running this year have already changed the definition of what it means to be a woman candidate. My organization, Run for Something, has worked with women who have gone into labor on the campaign trail and then eight months later, brought their newborn babies to state capitols. In 2018 and 2020, women candidates have shown up to city council meetings with bright green hair, run TV ads in which they show off their tattoos and physical strength, brought their wives up onstage with them—all things that even three years ago would've been called political self-sabotage.
They are making it possible for more women to run and win at every level, just as Hillary Clinton nudged open the door for six women to run for president four years later. Elizabeth Warren, Amy Klobuchar, Kirsten Gillibrand, Kamala Harris, Tulsi Gabbard, and Marianne Williamson pushed it open a little wider.
Whenever I meet a little girl, I say: "I'm running for president, because that's what girls do," and we pinky promise so they'll remember. https://t.co/gsfpWKz7WT
Warren especially has spent the last year on the trail making pinkie promises to little girls, telling them she's running for president because that's what girls do. I have no doubt that one of the women who wins the presidency will post a photo of that moment on whatever social media platform we're all using. I hope she captions it "promise kept."
So yes, today, I'm gutted. I'm grieving for what was possible. But then I'll shake it off and get back to work, because one of the women running or serving in office now will be our first woman president. I believe she is electable, and I'm going to help make it so.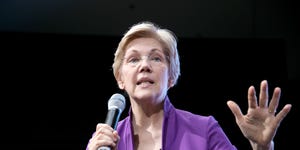 Source: Read Full Article