Even as the broader markets were under pressure, the stock of Torrent Pharmaceuticals was down 1.05 per cent on October 26.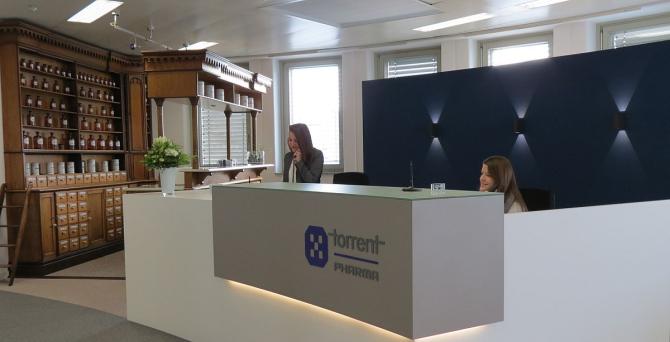 This was on expectation that steady sales growth momentum in core markets such as India and Brazil and recovery in the US market coupled with margin expansion will drive strong earnings growth over the next couple of years.
Brokerages are working with the net profit growth of 28-34 per cent annually over the FY23-25 period.
Led by an 18 per cent year-on-year (Y-o-Y) growth in the domestic formulations segment which accounts for over half its overall revenues, the company posted 16 per cent growth at a consolidated level.
Rest of the world (RoW) sales, which forms 11 per cent of revenues too saw robust growth at 17 per cent.
Other geographies which boosted the consolidated performance were Germany (up 20 per cent), Latin America (up 36 per cent) and contract development and manufacturing business which was up 30 per cent.
These segments account for 6-10 per cent of revenues.
The strong growth in key markets helped the company offset the 15 per cent decline in the US generics business.
The US market decline was on account of pricing pressure and lack of new launches.
The company indicated that pricing erosion has stabilised at mid-to-high single digits.
Amid pressure on prices, brokerages expect new drug approvals to drive growth in this market.
The margin performance too was strong with gross margins up 40 basis points sequentially and 320 basis points Y-o-Y to 74.9 per cent on the back of an improved product mix.
However, employee and other expenses offset some of the gains of the gross level.
Operating profit margin gains were thus limited to 140 basis points y-o-y to 31 per cent.
Nirmal Bang Research expects gains on the margin front going ahead to be driven by a change in mix, higher margins for Curatio and operational leverage.
Torrent had acquired the Chennai-based cosmetic dermatology company Curatio last year for Rs 2,000 crore.
Brokerages such as Prabhudas Lilladher Research have kept their operating profit estimates for FY24 and FY25 unchanged.
"Torrent Pharma has Rs 7,000 crore of revenues (75 per cent of total sales) from highly profitable branded formulation sales spread across India, Brazil and RoW markets.
"Curatio acquisition has been scaling up well with 1,400 basis points margin improvement since acquisition," says Param Desai and Kushal Shah of the brokerage.
What gives comfort, according to the analysts, is the track record of the company in successfully integrating past acquisitions such as Unichem and Elder acquisition.
Nirmal Bang Research. It has a 'buy' rating, is also positive on the company due to its strong chronic-centric branded portfolio, industry-leading field force productivity in India.
Further, healthy margins and free cash flows continue to provide the opportunity for further inorganic growth.
While Motilal Oswal Research expects sales and profits to grow by 14 and 34 per cent respectively, they have a 'neutral' rating on the stock due to limited upside from the current levels.
Disclaimer: This article is meant for information purposes only. This article and information do not constitute a distribution, an endorsement, an investment advice, an offer to buy or sell or the solicitation of an offer to buy or sell any securities/schemes or any other financial products/investment products mentioned in this article to influence the opinion or behaviour of the investors/recipients.
Any use of the information/any investment and investment related decisions of the investors/recipients are at their sole discretion and risk. Any advice herein is made on a general basis and does not take into account the specific investment objectives of the specific person or group of persons. Opinions expressed herein are subject to change without notice.
Source: Read Full Article