Sales of fast-moving consumer goods (FMCG) witnessed significant recovery in September after enduring a double-digit decline in August, according to data furnished by Bizom.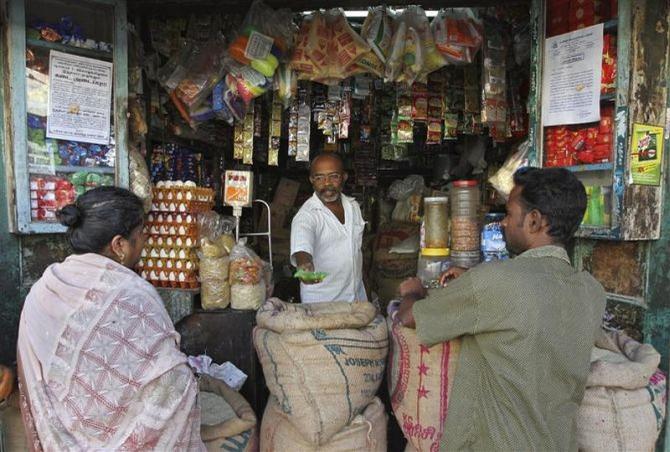 Kirana stores in rural areas stocked up in preparation for the festival season, which began in September.
This, combined with rainfall reaching 113 per cent of the long-perid average for the month, contributed to a boost in sales.
In September, FMCG sales increased by 4.9 per cent compared to the previous year.
This growth was primarily driven by rural sales, which saw a 5.8 per cent increase year-on-year (Y-o-Y), while urban sales also grew by 3.2 per cent during the same period.
However, during the July-September quarter, sales of FMCG items were impacted, experiencing a 2.3 per cent Y-o-Y decline.
This decline was primarily attributed to reduced sales of beverages and commodities, with the most pronounced effect seen in August and September.
In the quarter ending in September, rural demand witnessed a steeper decline of 3.1 per cent, whereas urban sales saw a slight dip of 0.6 per cent.
"We have observed a recovery in seasonal rainfall and a normal monsoon for the season (June-September), which has certainly had a positive impact on rural growth," observed Akshay D'Souza, chief of growth and insights at Bizom.
He added that the quarterly sales growth has mainly been affected by lower sales of branded commodities and beverages.
Among branded commodities, the retail intelligence firm noted a sharp on-year drop in prices, including edible oils. Beverage sales were affected by the rains, which resulted in cooler temperatures.
"However, homecare products have seen an increase in sales due to increased availability, whereas confectionery and packaged food products have seen heavier stocking, shoring up sales," D'Souza said.
He further said, "As we approach Diwali (in November), we anticipate FMCG companies to increase their stocking in kirana stores further this month (in October).
"This is mainly aimed at expanding their market share as they seek to capture a larger portion of the heightened demand during Diwali."
Consumer goods companies also reported in their July-September quarterly updates that demand is gradually recovering.
Dabur India, in its pre-quarterly results update, stated, "While FMCG consumption is showing Y-o-Y improvement, the recovery has been gradual.
"The quarter witnessed a mild summer and a slightly deficient monsoon."
The ayurveda major also mentioned that this year, the festival season is later than usual, causing festival-related sales to be delayed and carried forward into the next quarter.
Marico, in its pre-quarter results update, said that demand trends largely mirrored those observed in the preceding quarter.
It said, "Instances of rising food prices and below-normal rainfall distribution in some regions seemed to impede the anticipated recovery in rural demand."
Source: Read Full Article