The 2023-24 (FY24) July-September quarter (second quarter, or Q2) proved to be a mixed period for asset management companies (AMCs).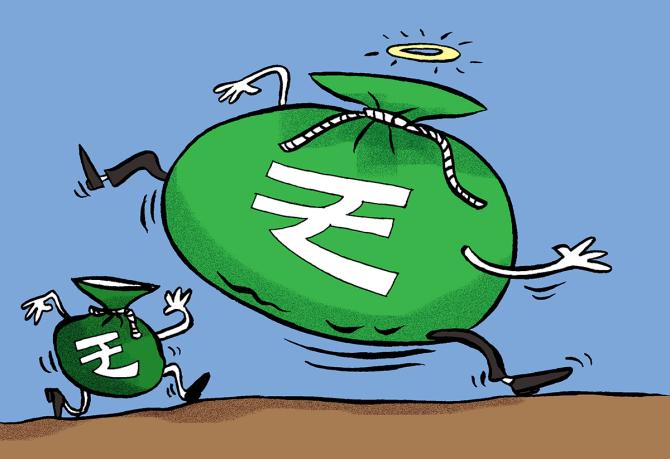 While the two largest listed AMCs, HDFC and Nippon, reported robust growth in both revenue and profits, the other two, Aditya Birla Sun Life and UTI, experienced profit declines.
HDFC AMC reported an 18 per cent year-on-year increase in Q2 revenue to Rs 765 crore, while Nippon's revenue rose 15 per cent to Rs 475 crore.
Their net profits also increased by similar percentages, at 20 per cent and 18 per cent, respectively.
In the case of Aditya Birla Sun Life AMC, revenue growth was subdued, but profits declined by 7 per cent.
UTI AMC reported a 7.5 per cent decline in revenue and a 9 per cent fall in profits.
From a stock performance perspective, analysts appear to be divided, with many anticipating only modest returns due to valuation concerns.
For HDFC AMC, most brokerages have maintained 'hold' or 'accumulate' ratings.
Brokerages like Geojit Financial Services, Prabhudas Lilladher, and KRChoksey have set target prices of around Rs 3,000 compared to the current Rs 2,730.
ICICI Securities, which set a target price of Rs 2,783 for HDFC AMC, believes that the positives are already factored into the stock's price.
"Improvements in fund performance are leading to superior business metrics, such as gains in equity market share, unique investor share, and increased market share in the equity segment across channels.
"Higher assets under management (AUM) accretion from the parent channel after merger is an additional tailwind.
"However, we believe this is well reflected in our target multiple of 30x 2024-25E (FY25E) price-to-earnings," it said.
Nippon AMC, which announced its results on Monday, stands out from the perspective of brokerages.
Several brokerages have a 'buy' rating on the stock with expectations that it could rise to Rs 440.
It increased by 5.4 per cent on Tuesday, closing at Rs 391.
Jefferies, in a post-result note, said, "We raise earnings forecasts by 10–13 per cent to factor in higher AUM growth.
"We see a 20 per cent compound annual growth rate in AUM over the next three years, led by market share gains in the equity segment, which may see higher growth of 24 per cent."
AMC shares, led by HDFC, have experienced a sharp uptrend over the past three to four months, primarily driven by the easing of regulatory concerns.
In June, the Securities and Exchange Board of India, which had proposed significant cuts in the maximum expenses that mutual funds can charge, announced that it would dilute the cuts.
HDFC AMC, which had a low of Rs 1,590 in March 2023, surged by 84 per cent in seven months, reaching a 52-week high of Rs 2,930 on October 17, 2023.
Aditya Birla Sun Life AMC and Nippon AMC also saw their stock prices rise by over 50 per cent during this period.
According to brokerages, while Aditya Birla Sun Life is showing improvements in terms of scheme performance, this has not translated into meaningful improvements in fund flows.
"Strong growth in AUM, especially in the equity component in Q2, leads us to increase our FY24/FY25 estimates.
"However, lower growth in the systematic investment plan (SIP) book and market share losses remain key concerns," said BOB Capital Markets in a report.
Despite the decline in profits, brokerages have maintained their ratings for UTI AMC, citing a 13 per cent AUM growth on the back of a 29 per cent rise in SIP AUM. BOB Capital and ICICI Securities have a 'hold' rating on the stock and note that the declining market share is a key risk.
"UTI reported a strong 37 per cent quarter-on-quarter (Q-o-Q) core earnings before interest, tax, depreciation, and amortisation growth in Q2FY24 compared to 26 per cent Q-o-Q growth in first quarter of FY24.
"Operationally, Q2FY24 saw a sequential equity/total market share decline of 8 basis points (bps)/13 bps to 5.68 per cent/4.31 per cent based on average AUM, along with a decline in SIP flow/AUM share," ICICI Securities said.
Disclaimer: This article is meant for information purposes only. This article and information do not constitute a distribution, an endorsement, an investment advice, an offer to buy or sell or the solicitation of an offer to buy or sell any securities/schemes or any other financial products/investment products mentioned in this article to influence the opinion or behaviour of the investors/recipients.
Any use of the information/any investment and investment related decisions of the investors/recipients are at their sole discretion and risk. Any advice herein is made on a general basis and does not take into account the specific investment objectives of the specific person or group of persons. Opinions expressed herein are subject to change without notice.
Source: Read Full Article