'The new ceiling will cover around 93 per cent of all deposit accounts, up from 90 per cent earlier,' notes Tamal Bandyopadhyay.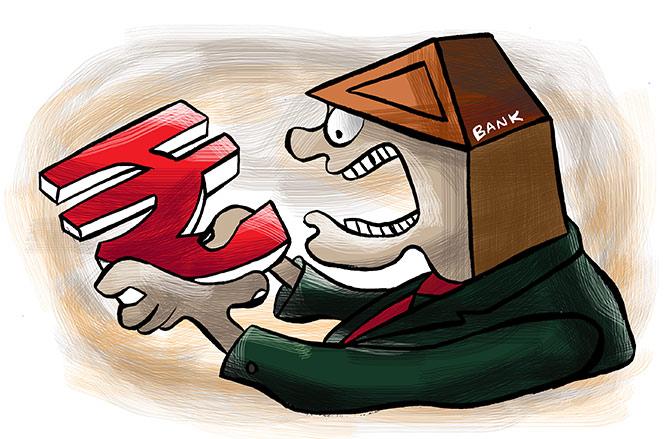 Finally, the deposit insurance cover has been raised five fold to Rs 5 lakh — a huge comfort for small depositors, some of whom have been staring at losing their money kept in fraud-hit and mismanaged cooperative banks.
Now if any bank fails, the depositors will get as much as Rs 5 lakh from the Deposit Insurance and Credit Guarantee Corporation, a wholly-owned subsidiary of the Reserve Bank of India.
It took 17 years and a Rs 6,670 crore fraud in multi-state Punjab and Maharashtra Co-operative Bank to raise the cover.
The latest revision, sixth since it started in 1962 with a Rs 1,500 cover, has been long overdue.
Even though it's a big jump from Rs 1 lakh, the last revision in 1993, it is still less than what the amount should have been after adjusting inflation.
Every nation, which has a banking system, offers such an insurance cover to depositors.
At least 146 nations have deposit insurance schemes — explicit or implicit.
The last country to get into this club is probably Georgia, which set up its deposit insurance agency in July 2017.
Incidentally, New Zealand introduced deposit insurance as a provisional system in response to the global financial crisis and it was withdrawn subsequently.
From January 2019, Austria has been running two deposit insurance systems, instead of the five earlier.
In fact, many nations including the US, Italy, Brazil and Portugal run at least two such schemes.
And, hold your breath, Germany runs nine deposit insurance systems.
There are wide variations among the deposit cover schemes.
For instance, the Deposit Insurance Corporation of Japan is responsible for insuring deposit-taking institutions in general, but the agricultural and fishery cooperatives are separately insured as the risk associated with such bodies is different.
The Korea Deposit Insurance Corporation provides deposit insurance not just for commercial banks, but also for insurance companies, securities companies, merchant banks and mutual savings banks.
And, there are five other deposit protection systems for cooperative financial institutions in Korea.
Finally, in Myanmar, deposit insurance is provided by Myanmar Insurance Agency, a state-owned enterprise.
There are no rules and regulations for deposit insurance; if bank a goes bankrupt, the government reimburses the depositors.
Who enjoys the deposit insurance cover in India?
Well, all commercial banks, including branches of foreign banks functioning in India, local area banks, regional rural banks and all state, central and primary cooperative banks, also called urban cooperative banks, which have amended the local Co-operative Societies Act empowering the RBI to wind up a cooperative bank and supersede its committee of management through the Registrar of Cooperative Societies.
Let's look at the nuts and bolts of the deposit cover.
Every depositor in a bank is insured up to a maximum Rs 5 lakh for both principal and interest.
If an individual opens more than one deposit accounts in one or more branches of a bank (savings/current accounts and/or fixed/recurring deposits), all these will be considered as one account and the aggregate insurance cover will be Rs 5 lakh.
But if a person opens more than one such account in her capacity as a partner of a firm or the guardian of a minor or director of a company or trustee of a trust or in a joint account, say with her husband, in one or more branches of a bank, each of these accounts will enjoy the insurance cover up to Rs 5 lakh, separately.
When it comes to the joint accounts, there is a catch.
If more than one deposit account (savings, current, recurring or fixed) are jointly held by say three individuals in one or more branches of a bank with their names appearing in the same order (A, B and C — three names, for three accounts) then all three accounts are considered held in the same capacity and the insured account will be capped at Rs 5 lakh.
To ensure Rs 15 lakh insurance coverage (Rs 5 lakh multiplied by three), the joint holders of three accounts should be shown as A, B and C; C, A and B; and A, C and B.
Done in this fashion, the deposits held in these joint accounts are considered as held in the different capacities with different rights.
Accordingly, the insurance cover will be available separately to every such joint account (I repeat, provided the names appear in different order) to the tune of Rs 5 lakh.
The depositors of any bank that goes for liquidation or is merged with another after February 4, 2020, will get the cover.
However, the cover is not applicable to the depositors of those banks that have been already deregistered and whose licences have been cancelled before February 4.
The deposit coverage of such banks remains up to Rs 1 lakh irrespective of whether the claims have been submitted or not.
The new ceiling will cover around 93 per cent of all deposit accounts, up from 90 per cent earlier.
Barring government deposits, all other accounts are mandatorily covered.
This will also raise the cover for deposits in terms of value from 29 per cent to 34 per cent.
This is in sync with the norms laid down by the International Association of Deposit Insurers, of which India is a member.
Formed in 2002, IADI, a forum for deposit insurers from around the world, works in close coordination with the Basel Committee on Banking Supervision and produces research and guidance on deposit insurance.
Going by its norms, 85 to 90 per cent of the deposit accounts and 25 to 30 per cent of the value of deposits should have insurance cover.
Argentina is probably the only country that went for 100 per cent deposit cover with government guarantee — a one-time measure when a financial crisis engulfed the country.
A depositor's full exposure to a bank should not be guaranteed as there is a moral hazard — once the full amount enjoys insurance cover, a bank will not have any incentive for meticulous care in running it.
Earlier, the banks were paying 10 paise per Rs 100 deposit; now they will pay Rs 12 paise.
The premium cost has been kept low keeping in mind the health of many banks, but the discussion of risk-based premiums is not off the table.
If not today, tomorrow the weaker banks may have to pay higher premium for the cover.
Tamal Bandyopadhyay, a consulting editor with Business Standard, is an author and senior adviser to Jana Small Finance Bank Ltd.
Source: Read Full Article