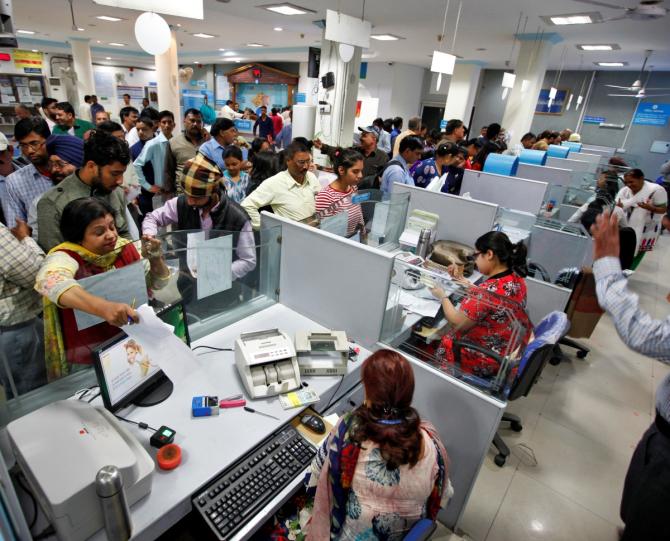 The number of employees in the private-sector banking space has almost equalled that of state-run ones, the latest data released by the Reserve Bank of India (RBI) showed.
In 2021-22, the employee strength of public-sector banks stood at 770,812 while units operating in the private sector, including private-sector banks, small finance banks, and payments banks, employed 769,890.
Further, while the employee strength of private-sector banks stood at 646,446 in 2021-22, small finance banks employed 116,393, and payments banks' employees totalled 7,051.
The headcount in small finance banks was 14,179 in 2016-17, when they arrived on the scene.
Overall, the banking sector employed 1.57 million (including foreign banks) in 2021-22, up almost 11 per cent over the previous year.
Interestingly, over the past eight years, the employee strength of public-sector banks has fallen from 844,454 in 2014-15 to 770,812 in 2021-22, a drop of 8.72 per cent.
In the same period, private-sector banks' employee strength has doubled from 310,043 in 2014-15 to 646,446 in 2021-22.
As far as universal private-sector banks are concerned, HDFC Bank is the highest in the pecking order with 141,354 employees, followed by ICICI Bank, Axis Bank, and Kotak Mahindra Bank.
Cumulatively, foreign banks had a headcount of a little over 28,000 in 2021-22.
Public-sector banks, which are the largest employers in the banking space, have seen a drop in clerical staff over the years. From over 309,416 in 2018-19, the headcount has come down to 266,725 in 2021-22.
Further, the share of employees at public-sector banks has fallen below 50 per cent during this period.
It was 72 per cent eight years ago.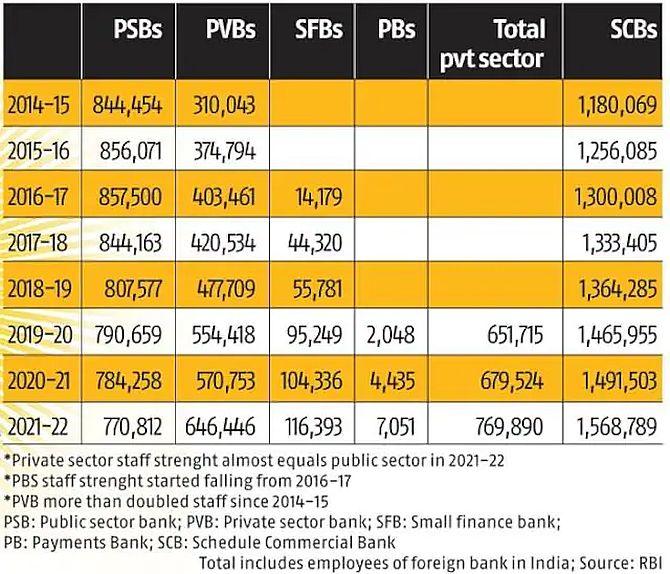 "If we look at a longer time horizon, the employee strength has been going down.
"The reason behind the fall in employee strength is the mergers and consolidations that have taken place in the industry in the last five-six years.
"Consequently, the combined entities saw a reduction in the number of employees than what was previously there," said a public-sector banker.
But the scenario could be different for a few banks on a standalone level.
"In our case, the employee strength has gone up. We added to it in the past three-four years," he said.
"Attrition at public-sector banks is well below the industry level.
"Having said that, we can say employees at public-sector banks are fairly mobile now than they were two decades back, especially since 2010, because all are covered under the new pension scheme.
"Very rarely do employees from public-sector banks move to the private sector, and mostly it is the other way around.
"Initially, when private banks were trying to get a foothold, there was a movement of employees from the public to the private sector but now it is not," said the person quoted above.
Among small finance banks, AU Small Finance Bank had the largest headcount, followed by Equitas Small Finance Bank and Ujjivan Small Finance Bank.
"In the small finance category, we have the highest manpower. In the past two-three years we have stepped up hiring and spread our employees in most parts of the country. Our rate of hiring per year is 8,000-9,000," said Vivek Tripathi, head of HR, AU Small Finance Bank.
"While for our front staff, attrition is pretty much the same as an overall industry, for higher levels i.e. assistant manager and above the churn is less because our overall employee value proposition, including compensation, culture, and reward philosophy, has been promising.
"Going forward, our hiring strategy will depend on the business plan.
"We'll continue to attract top-notch talent while retaining the existing high-performance team," he said.
Source: Read Full Article