Grasim Industries has announced a rights issue of around Rs 4,000 crore with the promoters committed to fully subscribing to their entitlements and to covering any unsubscribed po­r­tion.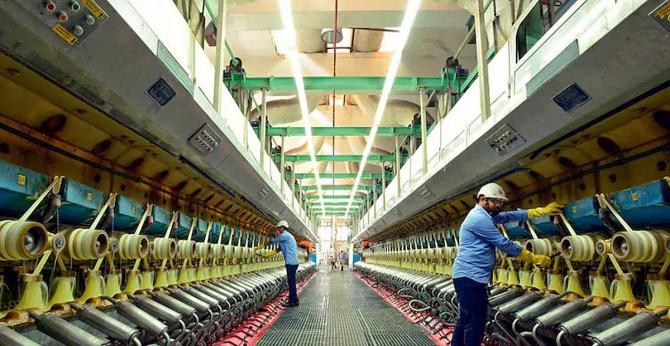 This is to part-fund capital expenditure (capex) of Rs 10,000 crore in a new foray into the paints business.
The company has already invested Rs 3,640 crore in the paints business (by Q1FY24).
The management has outlined a capex of Rs 5,700 crore for FY24, which includes Rs 4,280 crore allocated for the paints business, of which Rs 1,050 crore has already been spent in Q1FY24.
The higher capex and tighter margins in the standalone business segments, VSF (viscose staple fibre) and chemicals, have started to put pressure on the balance sheet with net debt increasing to Rs 3,520 crore in Q1FY24 vs Rs 1,720 crore in FY23 and net cash of Rs 850 crore in FY22.
By one estimate, net debt would rise to Rs 8,780 crore in FY25, assuming capex of Rs 10,800 crore in FY24 and FY25.
Apart from paints, Grasim will need to enhance VSF capacity, since the utilisation rate is projected to reach 96 per cent in FY25.
This may lead to additional capex.
The rights issue should boost earnings and it should result in earnings per share (EPS) increase of 0.6 per cent for FY24 and 1.9 per cent for FY25, assuming an equity dilution of 3.1 per cent.
The net debt will be low­er than earlier estimates, leading to interest savings of 18 per cent in FY24 and another 15 per cent in FY25.
The net debt/ebitda (earnings before inte­rest, taxes, depreciation, and amortisation) will be at 1.5x in FY25 versus an estimate of 2.7x without the issue.
Caustic soda prices may have bottomed out and started to improve from lows and should be higher in Q3FY24.
VSF prices in China have experienced an uptick and the September-end price of VSF was about 4 per cent higher than the average price in Q2FY24.
These are positive developments.
Grasim's 'Birla Opus' paint business involves phased commissioning of three plants (630 million litres per annum capacity by Q4FY24) and the product launch is scheduled for the fourth quarter of the current financial year.
The company would leverage the existing wall putty dealer network to cross-sell paints initially.
It has piloted painting services "Sparkle" in key metros.
The company says it targets being a profitable No. 2 player (behind Asian Paints) in coming years with a full suite of high-quality decorative paints.
The total capacity will eventually hit 1,332 million litres per annum, and serve demand cross-country with three plants (2 in North, 1 in South India).
The current estimated value of India's decorative paints industry is Rs 70,000 crore and the paint industry is seeing double-digit growth year-on-year, driven by consumer aspirations and the policy push towards 'Housing for All'.
Another focus area is B2B (business-to-business) e-commerce for building materials.
The annual report management commentary said these two sectors were chosen due to scalability and the group's understanding of the ecosystems.
In Q2FY24, Grasim also unveiled 'Birla Pivot' as the branded B2B e-commerce venture and it plans to invest Rs 2,000 crore over the next 5 years for e-commerce.
The market response is marginally negative. But that is to be expected given anticipated equity dilution.
The rights issue should shore up the balance sheet and although the paints segment is highly competitive, Grasim's presence in associated sectors and the existing distributor network offer a strong foundation for its foray.
Disclaimer: This article is meant for information purposes only. This article and information do not constitute a distribution, an endorsement, an investment advice, an offer to buy or sell or the solicitation of an offer to buy or sell any securities/schemes or any other financial products/investment products mentioned in this article to influence the opinion or behaviour of the investors/recipients.
Any use of the information/any investment and investment related decisions of the investors/recipients are at their sole discretion and risk. Any advice herein is made on a general basis and does not take into account the specific investment objectives of the specific person or group of persons. Opinions expressed herein are subject to change without notice.
Source: Read Full Article