The net inflows into active equity mutual fund (MF) schemes registered more than a twofold month-on-month rise in August, crossing Rs 20,000 crore, the highest in five months.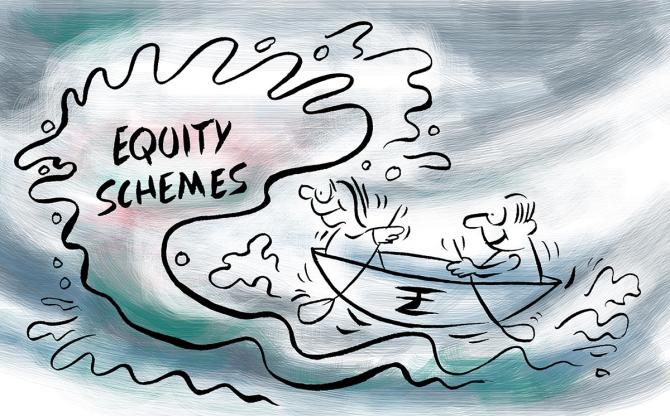 This rise in net inflows was boosted by an 18 per cent growth in gross investments, driven by a record Rs 15,800 crore inflow through the systematic investment plan (SIP) route and Rs 5,000 crore collected by seven new fund offers (NFOs) in the active equity space, reveals data released by the Association of Mutual Funds in India (Amfi).
Moreover, redemptions moderated in August, declining by 19 per cent to Rs 24,580 crore, after staying elevated in the previous three months owing to profit booking.
"The record SIP contribution is testament to the Indian investor's long-term approach to building wealth by investing through small ticket-sized SIPs," said N S Venkatesh, chief executive officer, Amfi.
According to industry executives, the shift in market trends in August may have nudged investors to put more money into equities — a trend seen in MF investing in recent years.
"The trend of selling high and purchasing low was visible in August's higher equity net sales.
"This was also aided by collections through a few NFOs in equity and hybrid categories," said Manish Mehta, national head-sales, marketing & digital business, Kotak Mahindra Asset Management Company.
The market, which had been rising since the end of March 2023, lost some steam in August with the benchmark indices ending their five-month gaining streak.
Both the National Stock Exchange Nifty50 and the S&P BSE Sensex declined by 2.5 per cent last month.
However, the broader market continued the bull run with the Nifty Smallcap rising by 4.6 per cent and the Nifty Midcap closing 3.7 per cent higher.
Among equity funds, small-cap schemes remained the biggest attraction for investors as they raked in a net of Rs 4,265 crore.
Only sectoral and thematic schemes secured a higher collection, primarily due to five launches in the category.
These schemes — HDFC Transportation and Logistics Fund, HSBC Consumption Fund, Kotak Quant Fund, Nippon India Innovation Fund, and Quant Manufacturing Fund — together collected Rs 2,560 crore during the launch period.
Gold exchange-traded funds also registered a spike in investor interest, with net inflows touching a 16-month high of Rs 1,028 crore.
"With the continued hike in interest rates in the US, inflation still higher than expectations, and the growth rate slowing down, the appeal of gold as a safe haven and hedge against inflation is expected to continue.
"Moreover, gold prices in recent times have come off from their all-time high levels, thereby providing some buying opportunity, particularly after the sharp rally it witnessed since March this year," said Melvyn Santarita, analyst-manager research, Morningstar India.
The flows into popular hybrid funds also gained momentum after remaining subdued for close to a year.
Balanced advantage funds (BAF) collected net inflows of Rs 3,600 crore last month, the highest since January 2022.
UTI MF's BAF NFO alone contributed Rs 2,250 crore to the total inflows.
Recently, fund houses have put in efforts to popularise hybrid funds, marketing them as a tax-efficient option compared to investing separately in equity and debt schemes.
There have been several launches in various hybrid fund categories, especially in the multi-asset space.
Active debt was the sole category to register outflows, with investors pulling out a net of Rs 26,000 crore.
Most of the redemptions took place in liquid funds, which usually see high inflows and outflows as corporate treasuries use these funds to park money for the short term.
Overall, the robust flows into equity and hybrid schemes led to a 0.6 per cent rise in the industry's total assets under management, reaching Rs 46.6 trillion.
Source: Read Full Article