10 out of 17 close-ended schemes have seen one-year returns between 34 and 40%, while Sensex Total Return Index rallied 46%.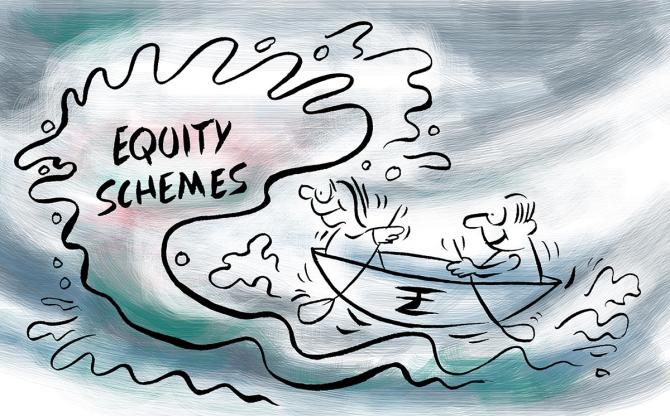 Close-ended equity funds, launched with fanfare three years ago, have disappointed investors with their dull returns.
The data from Value Research shows 10 out of 17 close-ended schemes maturing before July have seen one-year returns between 34 and 40 per cent.
In comparison, the Sensex Total Return Index (TRI) has rallied 46 per cent over the past one year.
However, the three-year returns for some schemes is in single-digits even now.
The schemes launched between 2017 and 2018 to benefit from India's economic growth.
As the economy slowed down and a rally in stock markets in 2018 and 2019 cooled, the schemes lost sheen.
"In the hindsight, the timing of the fund houses to launch the close-ended schemes were completely wrong.
"We had thought that Indian economy will start recovering from 2018 and there will be broader rally in the markets.
"But that period saw only top 10-15 stocks driving the markets which impacted the returns of not only close-ended funds but even several open-ended equity funds," said a fund manager who oversees close-ended fund for a fund house.
The sharp rally over the past one year has still helped improve the return scorecard.
About 8-12 months ago, the returns were so poor that some fund houses resorted to extend the maturity date of the schemes, while some converted the schemes to open-ended.
Tata Value Fund Series 1, which launched in July 2018, has seen returns of 34 per cent in the past year.
While IDFC Equity Opportunity Series 5, have given returns of 34 per cent in the past year. Sundaram Select Small Cap Series V and VI managed to give just 35-36 per cent returns. (The data is till March 10, 2021 and for regular plans).
Thanks to the recent rally in the markets which have pushed up the returns of few funds.
"The outlook in 2016-17 was that Indian economy was going to hit double digit growth, so lot of the close ended funds focused around sectors such as industrials, cyclicals and discretionary.
"The point was that if you hold stocks for next four-five years, one will get returns.
"But unfortunately, we saw Indian economy went into a downturn after peak of December 2017 followed by IL&FS and DHFL crises," said Sunil Subramaniam, managing director, Sundaram Mutual.
Some outliers, such as Nippon India Capital Builder Fund IV Series C, Kotak India Growth Fund Series 5, and ICICI Prudential Value Fund-Series 19, have managed to give returns in the range of 65-70 per cent in the last one year.
Market participants say that historically close-ended equity schemes have not fared well and now with lower expense ratio and poor returns, this segment may not see much investor interest going forward.
Source: Read Full Article