While the FPI limit on most bond issues would not be raised above 6 per cent, there would be some in which there would be no limits, reports Arup Roychoudhury.
Illustration: Uttam Ghosh/Rediff.com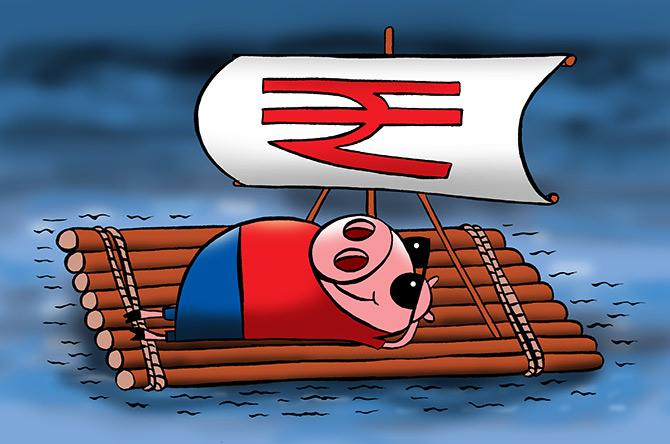 The Centre is looking to issue in the first half of 2020-21 a special series of government securities (G-secs) that will not have any limit for foreign portfolio investors (FPIs).
Global bond indices may include Indian G-secs after such issuances, which will bring in more foreign capital.
"We should be able to do it reasonably fast, possibly within the first half of the coming fiscal year," Principal Economic Advisor Sanjeev Sanyal told Business Standard.
The plan was spelt out by Finance Minister Nirmala Sitharaman in her 2020-21 Union Budget speech.
"Certain specified categories of government securities would be opened fully for non-resident investors, apart from being available to domestic investors as well," Sitharaman had said.
Sanyal said while the FPI limit on most bond issues would not be raised above 6 per cent, there would be some in which there would be no limits.
"One of the conditions for being included in global bond indices is that there should be no restriction on the purchase and sale of G-secs for any investor class," he said.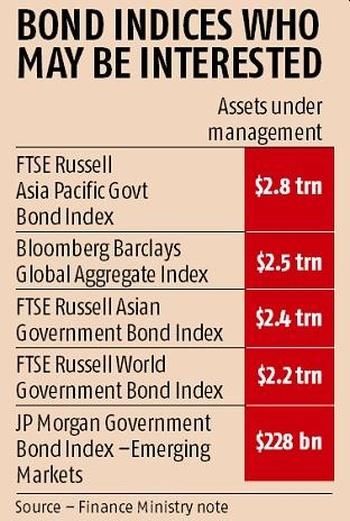 Sanyal said after multiple rounds of internal consultations among stakeholders, a technical way was found.
The tenure of these special series of bonds, as well as the amount, is being decided by the department of economic affairs.
If the criteria are met, some global bond indices that could embrace Indian G-secs include the Bloomberg Barclays Global Aggregate Index, FTSE Russel Asia Pacific Government Bond Index, and JP Morgan Government Bond Index-Emerging Markets.
Hence, as it stands, a portion of the government's Rs 7.8 trillion borrowing will be through these special issues as well as the G-sec exchange-traded fund (ETF) being planned. This is apart from the usual instruments.
Government officials such as Sanyal, as well as bond market analysts, said being part of global bond indices would help Indian G-secs attract large global funds from major global investors, including pension funds.
"A large number of bond investors are passive. They follow what is on the benchmark indices. So, if the bond is not in an index, they will not invest. On the reverse side, the moment you become part of the index, they will come in," said Ananth Narayan, assistant professor at the SP Jain Institute of Management and Research. Narayan was previously Standard Chartered's regional head of financial markets for ASEAN and South Asia.
"Clearly, they had some discussion with index administrators, which is why they are trying to implement this. But it won't happen very fast. Index inclusion for China took several years. It is a great step, but it will take a long time. Because these bonds will be bought by overseas fund managers following the index, the yield on these will actually be lower," he said.
Narayan said the issues would have to be large ones to have a decent weighting in the index. "If they are issuing fresh bonds, these will have to be built up over time," he said.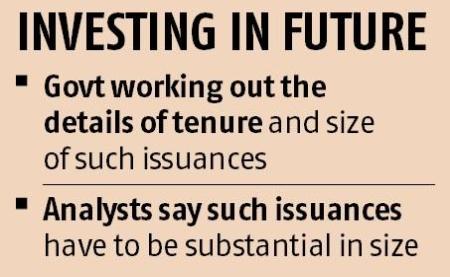 Sanyal clarified the different indices had certain minimum requirements of size and liquidity, which the Centre had studied and was confident it would be able to meet.
"For a small country you may not be able to create a special series of adequate scale, but we are a large country and we will be able to. The issues will have to be on some scale. If they are not large enough, you won't be getting into these indices," he said.
Analysts said the structure of the instruments, not the state of the economy, would decide the attractiveness of these bonds.
"Most investors are still bullish on India. The investors will consider the interest rates and yields on these bonds, and the hedging costs," said Harihar Krishnamoorthy, treasurer at FirstRand Bank India.
As of February 3, 71.75 per cent of the FPI limit in general government debt has been utilised, while only 26 per cent of the FPI limit in long-term government debt has been used up.
"Clearly, they have focused on this, and Prime Minister and Michael Bloomberg speaking about this in New York is also a great sign," said Narayan.
In September, when Prime Minister Modi had gone to New York, the possibility of Indian G-secs being included in global bond indices was discussed.
Michael Bloomberg had said Bloomberg would help Indian authorities navigate a course to inclusion in international bond benchmarks.
Source: Read Full Article