IT major Accenture's second straight cut in its revenue growth forecast for FY23 suggests there is more pain ahead for the Indian IT sector, say analysts.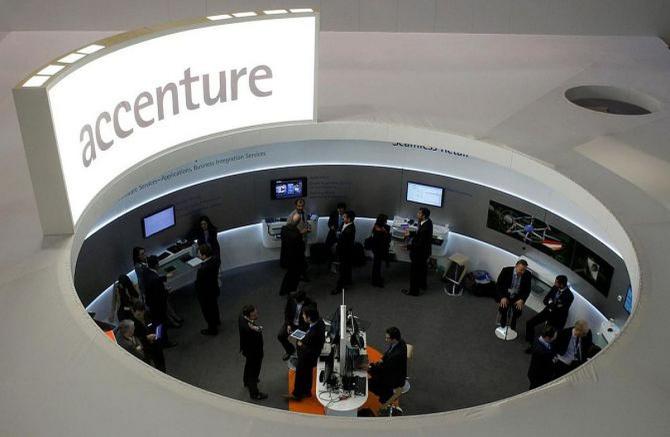 Accenture has lowered the top end of its FY23 growth guidance in constant currency (CC) to 9 per cent from 10 per cent earlier.
The firm, which follows a September-August fiscal cycle, expects a 2-6 per cent CC growth in Q4 of FY23 (June-August 2023) versus the 6-10 per cent prior guidance.
The lowered projections come on account of weakness in small deals (discretionary) and communications, media and hi-Tech (CMT) and financial verticals.
The company's order inflows in Q3 at $17 billion were also below management expectations.
Brokerages thus have maintained a cautious to negative stance on the Indian IT sector given Accenture's muted deal bookings, lagging demand in key verticals, and emerging pricing pressure.
"Sharp moderation in Accenture's bookings growth, even in outsourcing, suggest rising scrutiny on IT spends.
"A sequential decline in contract profitability after five quarters indicates pricing pressure, which can impact margins of the sector," wrote Akshat Agarwal and Ankur Pant of Jefferies.
Managed services (outsourcing) business led the overall bookings growth for Accenture in Q3, which may continue in the next quarter.
Analysts at Nirmal Bang say the unusual strength seen in this segment is unfavourable for the Indian peers.
"Going by data we have seen for the tier-1 players, we believe Accenture is gaining market share."
Meanwhile, the declining performance in Accenture's consulting business is likely to negatively impact Infosys and Wipro, which have relatively more exposure to this segment, analysts note.
That said, Accenture's yearly contraction of 8 per cent in CMT CC revenue and the slowdown in the financial services segment remain concerning for the sector.
Tech Mahindra with 39 per cent exposure to CMT will see a significant impact, along with LTI Mindtree and Persistent Systems, as per analysts.
"Accenture expects further deterioration in smaller-sized deal sales, CMT as well as North America, which is negative for the sector as we were expecting some stabilisation in the stressed verticals from June," said Abhishek Kumar and Anuj Kotewar of JM Financial.
At the bourses, shares of Persistent Systems, Coforge, LTIM, Tech M and HCL Tech have gained 10-26 per cent so far in CY2023, while Infosys has dragged the most, down 15 per cent.
In comparison, the Nifty50 index is up 4 per cent while Nifty IT is flat over this period.
Those at Nirmal Bang say that any ease in the hawkish monetary policy by the US Fed could induce a short-term rally in IT stocks, which may not be sustainable as consensus earnings estimates for FY24 and FY25 still remain too high assuming a soft landing of the US economy.
"We are pricing in a shallow recession in the US.
"Even if one were to ignore the next 12–18 months' risks around recession and take a 5-year view, the starting valuations are expensive and can at best deliver mid to high single-digit total stock returns (including dividends) for TCS, Infosys.
"This is because the structural revenue and earnings growth are being overestimated by the Street," it said.
The brokerage projects a downside of 8-20 per cent till March 2024 for TCS, Infosys, Wipro, HCL Tech and Tech Mahindra.
A 23-38 per cent correction is estimated for Persistent, LTI Mindtree, Mphasis and Coforge.
Source: Read Full Article